Men's Ministry
---
Men's Ministry of FBC Midland offers a variety of opportunities to connect for all men.
Iron Men: Men's Book Study
A time to gather and connect with men of all ages as we study a book together. We meet each Thursday morning at 6:30 am in Room D103. Led by Berry Simpson and others.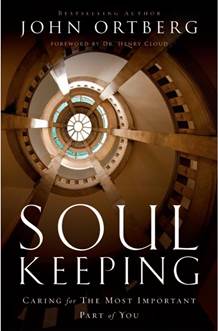 Our Spring 2020 session begins January 9 - May 14, 2020. We will be read and discuss the book SOUL KEEPING by John Ortberg. Books are $10 each.
When is the last time you thought about the state of your soul?
The health of your soul isn't just a matter of saved or unsaved. It's the hinge on which the rest of your life hangs. It's the difference between deep, satisfied spirituality and a restless, dispassionate faith.
In an age of materialism and consumerism that tries to buy its way to happiness, many souls are starved and unhealthy, unsatisfied by false promises of status and wealth. We've neglected this eternal part of ourselves, focusing instead on the temporal concerns of the world―and not without consequence.
Bestselling author John Ortberg presents another classic that will help you discover your soul―the most important connection to God there is―and find your way out of the spiritual shallow-lands to true divine depth. With characteristic insight and an accessible story-filled approach, Ortberg brings practicality and relevance to one of Christianity's most mysterious and neglected topics.
Deacon Family Ministry
FBC deacons play a crucial – and Scriptural – role in ministering to the families of First Baptist. The primary task of the deacon is to encourage the spiritual growth of the families they serve. Families in the church are assigned a deacon who will attempt to see that the overall needs of each family are being met. Each deacon has the responsibility of up to 10 families. For more info,
Brotherhood
A men's luncheon time, open to all men of the community whether members of FBC or not, for sharing and praying followed by a short program by different special guests. Each Monday at 11:45 am - 1:00 pm in Room D101. Cost: $5. For more information, contact Dave Pearcy at 432.528.4221.
Guest Speaker Schedule
Jan 6 John Worley, Light and Glory Ministry (Israel)
Mar 2 Max Lucado video
Mar 9 Spring Break, no meeting
Mar 16 Jim Walterhouse: Blessed Hands Deaf Church, Big Spring
Mar 23 DiAnn Koehl, Midland Fair Havens (tentative)
Mar 30 Patrick Payton, Mayor of Midland
Apr 6 Bob Fu, China Aid
Sports and Tournaments
See the Activities Ministry for opportunities and how to get involved.
Friday Prayer
All men are welcome to attend a time of fellowship and prayer each Friday morning at 6:30 am in the D Hall.
"As iron sharpens iron, so one man sharpens another. " Proverbs 27:17