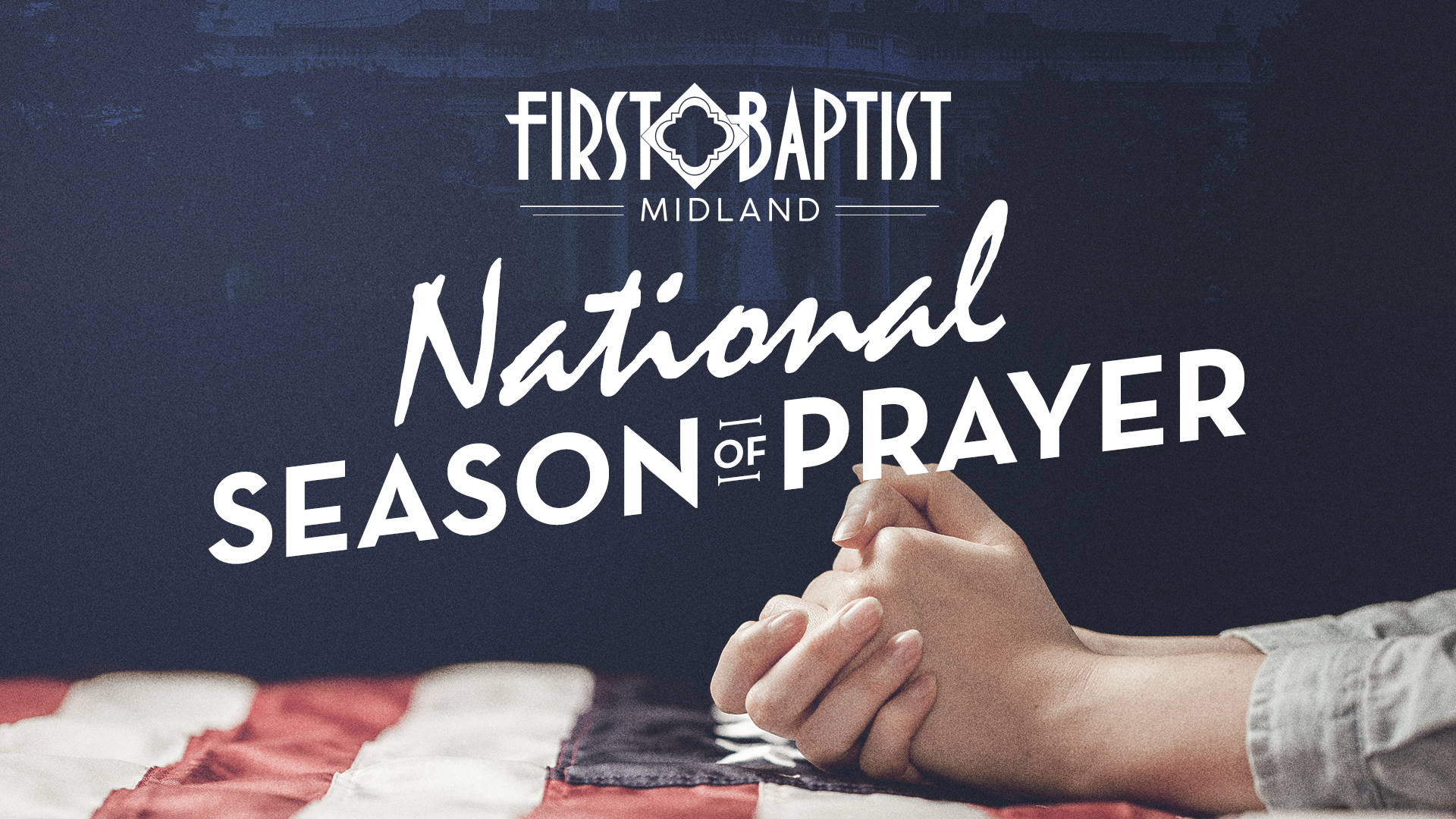 NATIONAL SEASON OF PRAYER
If we as a nation have ever needed prayer, it's NOW!  That's why we're participating in Dr. Franklin Graham's prayer emphasis beginning this week. From September 24, it's 40 days till Election Day.  Below, please find a prayer and action plan to carry us through the next 40 days.
SATURDAY, SEPTEMBER 26
Pray for those who are currently in elected office, whether it be city hall, Austin, or DC. Romans 13 commands us to pray for them and to honor their service. Such a commandment is not limited to those we voted for or agree with.
Pray for engaged and prepared voters.  By way of assisting in that, we're planning to have a voter registration table in our Welcome Center for the next two weeks. Studies have shown far too many Christ-followers don't vote. Use the God-given opportunity to express your voice.
Fast one meal or an activity for the day as a means to cleansing your heart and mind.
SATURDAY, OCTOBER 3
Pray for those running for office.  Running for office – no matter what the office might be – isn't easy or for those who wilt quickly.  Pray for their families in this challenging season.
Fast one meal or activity for the day, using that time to ask God's favor on our nation and our future.
SATURDAY, OCTOBER 10
Pray for those in law enforcement, our first responders, and their families. The job they have is difficult on its best day and that's not now. Pray for their protection and for encouragement for them.
Fast one meal or an activity for the day for those who serve in dangerous positions.
SATURDAY, OCTOBER 17
Pray for the election judges and the numerous volunteers who work tirelessly in preparing for an election.  For most of us, we walk in, vote, and leave.  But for those who work or volunteer there, when we walk out, they're just beginning.  We've seen recently how important their work can be in a difficult election.  Pray for strength, wisdom, and patience.
Fast one meal or an activity for the day, asking God's favor over all those who will serve with the election.
SATURDAY, OCTOBER 24
Pray for our military.  While they are not elected, they aren't civilians either.  Pray God's protection for those who are serving far from home.  Pray for their families.  Pray for their safe return.  God is using their service and we would do well to remember that.
Fast one meal or an activity for the day in prayer for our friends in the military.
SATURDAY, OCTOBER 31
Pray for our nation. As a nation, we are as divided now as I've ever seen us. This cannot remain and us continue as the "United States." Where there is no agreement, there can be no unity. Pray with me for our nation to see the divisions between us for what they are – tools Satan uses to distract and destroy us. Pray for peace, grace and that we begin to believe the best about each other instead of the worst. While there is the reason for natural pessimism, I want us to choose to trust our God to do big things – like bring a revival to our land.
Fast one meal or an activity for the day in consecration for a revival to sweep across this great land and for the future of our nation.
TUESDAY, NOVEMBER 3
Pray for the election to be clear, decisive, and expedited.  If a winner is declared that night, then praise the Lord for His goodness, even if it's not your candidate. Pray that God's healing for our divisions will begin to heal that very day!
I'm convinced this is a season that will turn our nation, one way or the other. I believe it firmly.  With that in mind, I don't want to look back and say, "If we had only called out to the Lord!" Whether you use this plan or your own, let this be the moment you call on God's hand to come to our nation.  We need Him now like we never have before.