FBC Staff
« Back to Staff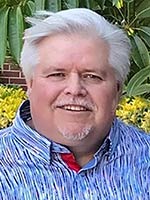 Jeff Wash
Minister of Media & Communications
office: 432-683-0622
How did you arrive at FBC?
God moved us to FBC Midland with an amazingly clear call to join the ministry team after 17 plus years at another church and get busy doing God's work.
Tell us about your family.
My wife and best friend is Laurie. She is the associate choral director at Robert E. Lee High School here in Midland. She has spent the last 17 plus years teaching private voice lessons and partnering with great churches all over our country in productions, special events and kids worship. I have three wonderful children. Garrison (and his wife Meredith) live in Simi Valley, California and is pursuing God's will in church planting. Laurlyn (and her husband Noah) live in Orlando, Florida where she is employed at Disneyworld. Grantham is my youngest and just spent 5 months as a missionary in London and is currently attending California Baptist University.
Other than the Bible, what's your favorite book?
I like to read books that continue to further my growth in the media driven world that we live in. Most recently, I have been reading "Be Known for Something" by Mark McDonald.
What's your favorite vacation spot?
Disneyworld seems to be where we have gone and now that my daughter works there it has to be one of my favorite. Laurie and I also love to see our National Parks.
What do you do for fun?
I have played golf since I was a young man.
What is the best thing about FBC?
The people in the church and the staff have welcomed us with the love of Christ. They are a very encouraging group of people.
What's the best thing about what you do?
We live in a culture where we are navigating the biggest communications shift in the last 500 years. Learning to share the greatest story of all time is exciting every day!
What would you say to someone to encourage them in their spiritual journey?
Another favorite book of mine by Henry Blackaby says to "Watch to see where God is working and join Him." Join God in where He is working, and you will look forward to seeing what He will do.