FBC Staff
« Back to Staff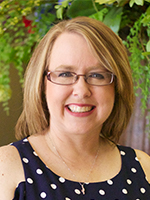 Amy Brand
Minister of Preschool Education
office: 432-683-0627
How did you arrive at FBC?
Cory and I grew up here in Midland, but have spent most of our adult lives serving around the state. When the Family Minister position opened up, we looked at the job description and knew that it was exactly what God had been preparing Cory for for years. We never expected to be back home, but when God throws doors wide open and clears all the obstacles, you go...eagerly and cheerfully!
Tell us about your family.
My husband, Cory, and I have known each other since 4th grade! He's my very best friend, and it is a joy to serve in ministry together. We have three children: Lance is 24, living in the Dallas area, and is a political consultant; Brent is 20, currently here in Midland but transitioning to Denver this fall to attend gunsmithing school; and Abby is our 17 year old high school senior. Abby plans to go to college to train as a sign language interpreter.
Other than the Bible, what's your favorite book?
Tough question! I love to read! My favorites to read for fun are really anything by Terri Blackstock or Francine Rivers, though.
What's your favorite vacation spot?
We had the blessing of getting to cruise to Alaska this summer, and we loved it! As long as we can go in the summer when it's not too cold, I'd do it again in a heartbeat!
What do you do for fun?
I love to craft, decorate, and read! I love a chance to be creative and let my imagination play a bit!
What is the best thing about FBC?
FBC has the most wonderful people! I can't say enough good things about the warmth and love that we have been surrounded with since we first set foot in town. People at FBC are encouraging, sincere, and they serve with excellence. It's an incredible family to be in!
What's the best thing about what you do?
get to be a small part of not only introducing little ones to Christ, but affecting families for generations to come! What an incredible, humbling privilege! (And as a bonus, we have the most tremendous team of volunteers in Preschool Ministry...how fun is that?)
What would you say to someone to encourage them in their spiritual journey?
There's a quote by Bob Goff that says, 'On your very worst day, Jesus calls you BELOVED.' Rest in that knowledge. Our value isn't determined by our performance, our circumstances, or even our feelings. Be comforted and encouraged in what He thinks of you!