FBC Staff
« Back to Staff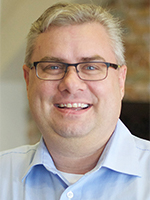 Cory Brand
Family Minister
office: 432-683-0654
How did you arrive at FBC?
I can see now how God has been equipping me for Family Ministry for many years now. God has developed a passion inside me to see marriages and families succeed in creating a God honoring home who daily points their children to Christ. I think it is a divine appointment that God has led me to a church that is ready to minister and to the family.
Tell us about your family.
I have a wonderful family who I am very proud of. My wife Amy is my best friend. She is a creative genius! She truly makes me look good which is no easy task. I have three incredible children with whom I am very proud of. Lance is a young man beginning his career, Brent is currently attending A&M. and Abby is in her last few years of high school.
Other than the Bible, what's your favorite book?
I wish I could tell you that I love reading for enjoyment. However, I am reading something all the time. I read to learn. I read leadership books, church strategy books, marriage and family books, and personal spiritual growth books. Some of my favorites are "The Holy Spirit" by RA Torrey, "Love and Respect" by Eggerichs, "It Starts at Home" by Bruner and Stroope.
What's your favorite vacation spot?
My favorite vacation spot is a secluded cabin in the mountains with no cell service and no TV.
What do you do for fun?
I love to hunt and fish, I love watching movies, I love going to dinner with my wife. I like to golf but I'm terrible at it.
What is the best thing about FBC?
The best thing about FBC is it has one foot in the past and one foot in the future. FBC has a rich legacy of serving and ministering in the name of Jesus that has been felt not only in Midland but the far reaches of the Globe. FBC also is not content with just celebrating past accomplishments but is forward thinking, always striving to find new ways to "make disciples".
What's the best thing about what you do?
The best thing about what I do is relationships. I work at developing relationships. That may be me helping someone understand what having a relationship with Christ looks like. It might be teaching men and women ways to develop and strong marital relationship. Its equipping parents to help develop their children's relationship with Christ.
What would you say to someone to encourage them in their spiritual journey?
Matthew 7:7-8 say, "Ask and it will be given to you; seek and you will find; knock and the door will be opened to you. For everyone who asks receives; the one who seeks finds; and to the one who knocks, the door will be opened.
Don't ever quit searching, never quit knocking, never quit seeking.