FBC Staff
« Back to Staff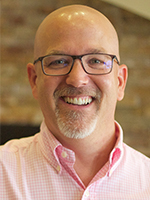 Aaron Hodges
Minister of Music
office: (432)683-0619
How did you arrive at FBC?
I arrived on August 2, 2017 in my packed up Honda Odyssey with my two boys and three dogs after traveling 20 hours. We are in Midland because it was very evident to me and my family that FBC Midland is where God wants us!
Tell us about your family.
My wife Malia and I have been married 24 years. We have 5 children ages 20,17,16,10 and 8.
Other than the Bible, what's your favorite book?
Love to read anything that is based on spiritual warfare or science fiction. Favorite book is The Oath by Frank Parretti
What's your favorite vacation spot?
Panama City Beach
What do you do for fun?
Spend time with my family
What is the best thing about FBC?
The staff and the people.
What's the best thing about what you do?
Leading the church in worship.
What would you say to someone to encourage them in their spiritual journey?
Keep your eyes focused on Jesus and the things of this earth will grow strangely dim.