FBC Staff
« Back to Staff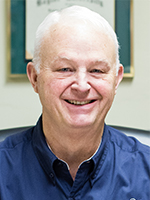 Jim Hansen
Director of Maintenance
office: 432-683-0641
How did you arrive at FBC?
Left Glorieta after 25 yrs, Felt called to return to midland as Director of Facilities.
Tell us about your family?
Lynn and I have three children. Jody and Charee Hayes, have two sons Jonah and Zeke. Bryan and Julie Pinson, have a son and daughter, Drew and Carly. Blair and Cassie Hansen, have a daughter and son, Anisley and Cooper.
Other than the Bible, what's your favorite book?
Spiritual Leadership – Henry Blackaby
What's your favorite vacation spot?
Anywhere with family and grandchildren.
What do you do for fun?
We enjoy eating out and visiting, walking. Entertaining and visiting with children and grandchildren. Oh Yeah! There's fishing, golf, sightseeing, wood working, and even yard work.
What is the best thing about FBC?
Being around bothers and sisters in Christ. Wow! Each and every Baptism is a great day.
What's the best thing what you do?
Teach and mentor the Maintenance and Custodial Staff.
What would you say to someone to encourage them in their spiritual journey?
Encourage them to get involved and have Christians to be around. Read the word of God and spend time in prayer, to fight the good fight and let's finish the race together.